I wanted to share the last of my Christmas Handmade Gifts
these are very easy and
You should keep them in mind for any gift giving opportunity.
Trust me.
First on the list were these adorable rosette bracelets.
I had first seen them via
this
Pinterest pin from Sew.Craft.Create.
She has the best tutorial for sewing these babies.
I opted for and different assembly technique.
And out came the hot glue gun...
I cut a circle of felt about the size I wanted the final rosette to be.
Mine was about 2 inches.
I chose a complimentary color to the 2 fabrics I was using.
I love Green and Baby Blue.
Yellow and Baby Blue isn't bad either.
I then cut a strip of fabric approximately 14 inches long
I decided to leave the edges frayed since I liked the look.
Tie a knot at on end and then hot glue it to the center of the felt circle.
Then twist and glue until you cover the felt.
I then cut a rectangular strip of felt then width of the circle
I ran hot glue down both of the long lengths
and attached to the circle.
Take a length of chain and measure your wrist.
Cut to length.
Add a Toggle Clasp to either end of the chain with jump rings
Thread through the felt rectangle
Find where you would like to attach your charm.
Attach with a jump ring.
I made two for my friends.
They both loved them.
The fabrics were bother very much "them".
************
Next up were another two tee-shirt scarves.
I've made one for myself earlier this year and love it.
Two of my friends commented on it so I figured they may like their own.
I used the same technique I saw on
this
great video.
The only difference is that I sewed my seam for the scarf.
I just like the finished look.
Just place both sides of ruffles together,
measure the length you want
and sew the seam.
************
Last up were more kiln fired bottles.
A blue cheese dish with glass beads and matching spreader.
A mini Corona bottle that makes the perfect spoon rest.
The guys LOVE these.
Turns out Corona paints the labels on their bottles,
so they stay intact after firing in the kiln.
Everyone loved their handmade gifts.
Or at least said they did... :)
Make something from the heart.
XOXO
Featured on: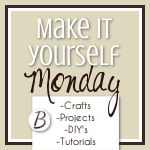 Linking up to these fabulous parties. Also check out my Wanna Party page.